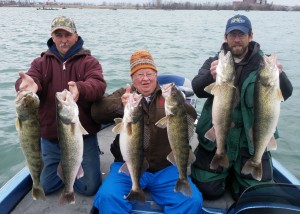 Rates
Detroit River Walleye Only
Morning or Afternoon Trips Available (5-6 hours) for 1-2 people $350
-Add $50 for 3rd person
*Full Day Walleye rates also available
Regular Season
Full Day Bass or Walleye (7-8 hour trips) for 1-2 people start at $400
-Add $75 for 3rd person
Full Day Musky (at least 8 hours) for 1-2 people start at $450
-Add $100 for 3rd person
Half Day Any Species (4 hour trips) for 1-2 people are $300
-Add $75 for 3rd person
*Rate Not Available for Detroit River
*A $150 Deposit is required for all fishing trips
-Add $50 to any trip for Multi-Species
Method of payments accepted: cash or check
Cancellation Policy: All trips require a $200 deposit at time of booking. A 7 day notice is required for a refund. Trips cancelled after the 7 day grace period will result in a loss of the deposit. All weather cancellations are my decision. I do not cancel trips because of rain.
Things That Are Provided
What Is Included When You Book Your Trip
-A fully licensed and inspected Nitro NX882 Bass Boat rigged and ready to fish
-Safety Gear
-All the rods, reels, and tackle you'll need to chase your target species
-The teaching of (or advise on) Proper Techniques and Lure Presentations
-10 Years of Guide Experience, plus a lifetime of fishing knowledge
-An Unmatched  Fishing Experience
Things To Bring
All You Need:
-A Michigan Fishing License
-A Canadian Fishing License upon my recommendation: (Canadian Licenses must be purchased online and printed prior to your trip)
-Food and Drinks to fit in a Nitro bass boat built in cooler
To Enhance Your St Clair Fishing Experience I Also Recommend Bringing:
-Polarized Sunglasses
-Raingear
-Sunscreen
-Proper Clothes for the Weather (You Can Always Take Layers Off)
-Don't Forget a Camera!