I am very fortunate to have been on guided fishing trips all over North America. This includes fresh and salt water both. Some of my favorite waters have become the St. Clair River and Lake St. Clair.
Doug Samsal was my winter Steelhead guide for 15 years. I took him up on an offer to fishing smallmouth on Lake St. Clair. Best smallmouth fishing in the world, period. Now most of my early season bass fishing is done with Doug's son Garrett. It impresses all of us who fish with Garrett, the amount of knowledge he has for a man of his age. He is also very honest. If the fishing isn't top-notch, he will direct you to a different time.
He fishes very hard. You will get more time and money's worth – and then some. Nothing but the best equipment in his boat. This guy never stops trying to better the fishing and the fishing atmosphere.
Overall, Garrett is probably my favorite and most productive guide I fish with each season.
Good Fishing,
Dale A. Whaley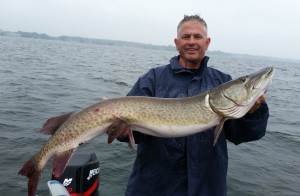 That was the best trip we have ever been out on, including many guided trips in Florida, California, Arizona. We lost count of all the nice smallies we hooked, and we ended up with a total of 4 nice walleye that are being cooked up as I type this. I was overjoyed that my wife was able to bring a nice Muskie alongside the boat, she had an awesome time. Garret was an amazing guide, I have never had a more knowledgeable, hardworking fishing guide in my 50 years of fishing trips. He put us on fish almost immediately, and then kept us on them for the entire day. We can't wait to go out with you guys again, my wife has been talking about how much fun she had almost non-stop. Thanks for such an awesome trip!!
July 14, 2013
Jeff & Bonnie Davis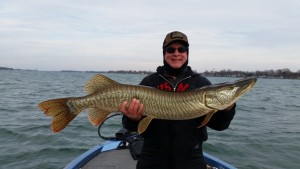 I have been fishing with Garrett for several years and he is always prepared and knowledgeable about the species and locations that we are fishing. He is always up to date on where the hot spots are and what is working to get the big fish in the boat. I always look forward to the next time I make this trip north. Thanks for the great times Garrett.
Cory Williams, Ohio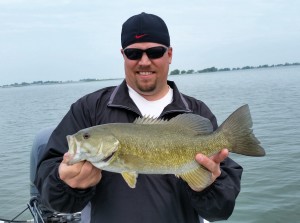 Our first trip with Garrett was successful. Fish focused and well equipped for any species, he knew where and what to do. Despite tricky conditions in warmer and stained water, we found fish; including bass and a solid musky. Great guide to fish with! Good knowledge of the area and various weedlines that held active fish…thanks again Garrett happy fishing.
Chris & Allen Gabrenya