WORLD CLASS FISHING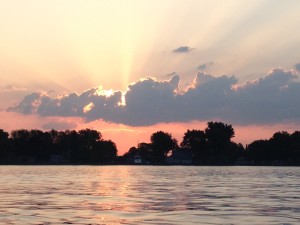 What to Expect
Every day I trailer my Nitro bass boat to the best location for that day based on: wind/weather, water clarity, & target species current productive locations. Add local knowledge of lures and great equipment and you have the recipe for success! As an experienced angler and guide, I am able to deliver an informative day of learning to even the most seasoned anglers while emphasizing the proper methods to best capitalize on each days changing conditions allowing us to boat more and bigger fish. With a Bachelor's Degree in Hospitality Management it has always been my mission to exceed client's expectations, making them feel like they got more than they paid for. My clients are amazed by my vast knowledge, attention to detail, and professionalism I deliver at my age.  Providing a memorable day on the water that won't be forgotten!
The Big Hand in Freshwater Fishing
Walleye
Spring is trophy walleye season! The Detroit River is famous for the largest walleye migration in the world. This spring run brings millions of walleye up the Detroit River each year. This is the best time of the year to land several massive marble eyes. As soon as the ice flows break up (mid-late March) I will be jigging the Lake Erie giants that make their annual run to the warm spawning grounds of the lower Detroit River. For the trophy walleye of your dreams, ice out offers the best opportunity. During this window, we boat massive pre-spawn walleye with bursting girths. 7-10lb walleye are the norm with 12-13lb + boated each year. In addition to the staggering size, the numbers of fish boated can be outstanding. The rule of thumb is big fish early in the run and numbers at the end. For a limit of walleye, the best opportunity is the last week in April – mid May when both the Detroit River and St Clair River stack up with eaters. The immense number of St Clair River spawning walleyes turns on following the Detroit River bite due to the colder water flowing out of Lake Huron. In order to catch these predators of the deep, we will be using the hands on method of vertical jigging. This style of river fishing requires precise boat control in order to slip the current properly (match the speed of the ever changing river current) and hold on the fish. There is an art to be able to feel and kiss the bottom while effectively presenting your bait. By mastering this, you will be able to optimize your catch while best utilizing your time on the water. As the river water warms usually by early June ticking bottom bouncers equipped with crawler harnesses along river weed lines and ledges can become a very productive method for catching walleye all summer long.
Smallmouth Bass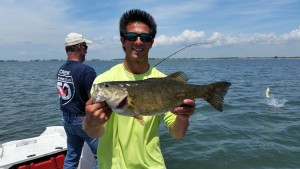 Bassmaster Magazine ranked Lake St Clair as the #1 Bass Lake in the world in 2013; this sets the scene for unmatched line tightening, rod bending action!  In fact it is the favorite stop for the Bass Masters Elite tour. Lake St Clair is typically a very clear body of water, smallmouth thrive in this clarity feeding on the overabundance of small perch, shiners, and gobies. As of 2015, the catch and release season is open year round, allowing anglers to target large numbers of concentrated pre spawn bronzebacks. From late April till the beginning of June the smallmouth come in waves working through the stages of spawning. Lake St Clair has more smallmouth than any other lake on earth, with the average size being 3lb +. Each spring these fish group up by the 100's in shallow areas, creating the best time to catch numerous 4-6lb + smallmouth. This combination of astounding numbers and impressive size creates the total angling experience. When you hook into a 4lb + smallmouth in shallow clear water you ignite a spark that quickly escalates into a tug of war that may have you on all sides of the boat. Each spring my clients experience an abundant number of plentiful catches exceeding 100 fish with 2014's most memorable day boating 187 hard fighting smallmouth in 7hrs, talk about nonstop action. The average number of bass boated this time of year ranges from 50-75, with even the slowest days yielding 35-45. You better keep a tight grip on your rod! Pound for pound smallmouth bass deliver, offering one of the most explosive fights in freshwater. You will experience countless reaction strikes this time of year; as the water is so abundant with territorial spawning bass and post spawn bass aggressively feeding before they move to their summer homes. When your line tightens a second after it hits the water, you rear back with a sturdy hook-set and its game on! These bass love to chase and you can make passive fish act aggressive by simply fishing specific techniques rapidly creating intense strikes that can jolt your whole rod forward in an instance. Come experience the best smallmouth action anywhere! The action and location constantly changes as we go through the summer and fall but one thing that is consistent the words we here all the time, "these are some of the biggest smallmouth I have ever seen!"
Musky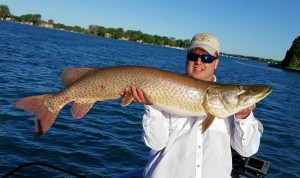 Lake St Clair and its connecting rivers offer the world's premiere location to pursue and chase North America's top freshwater predator.  St. Clair's 274,000 acres is home to an estimated 125,000 to 150,000 muskies, a number simply unheard of for a lake its size. This high concentration translates into the most consistent and productive musky action on the planet today, with zero fish days being extremely rare. St Clair is loaded with trophy great lakes musky, the size of these fish is truly incredible with countless muskies over 50" on the prowl, and a true chance at a world record only a cast away. Each year the number and size of the fish boated increases as the fishery continues to grow. 2014 was a dream season, with absolutely staggering numbers of musky including numerous 50+ inchers landed.  I had an 11hr trip in 2014 that was nothing short of magical, with a remarkable 70 muskies enticed by our aggressive casting presentations in one outing! Showing themselves in every way imaginable: blow-ups, T-bones, from under the boat, on the figure 8, even twice two muskies followed in at the same time, talk about heart pumping excitement! Nowhere else can you have the opportunity to experience something as exhilarating as casting for muskies on Lake St Clair! The adrenaline rush and satisfaction is unmatched by anything else in freshwater; when a musky follows your correctly manipulated lure. This feeling is only amplified tenfold if you witness the explosive strike, which very often happens right at the boat! I've been musky casting for 18 years, and caught my very first musky on the figure 8 at the age of 8. The fish of 10,000 casts is truly addicting, once you see your first follow you'll be hooked. According to In-Fisherman Lake St. Clair is hands down the hottest musky fishing anywhere. The season starts the first Saturday in June, and closes on December 14th. I offer the true experience by targeting these veracious predators by only the rod in hand methods of casting and jigging. Fly fishing musky can be very successful in June as well, if you have the desire, I have the experience to put you on the fish!
Sturgeon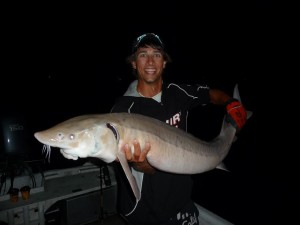 Offer the ultimate fight of any fish in the great lakes. Sturgeon are fished anchored up in precise locations with live or dead bait. Each angler is best off to hold the rod in hand while watching their rod tip to best detect the most timid bites that these massive living fossils are known for. Powerful and quick hooksets are necessary as sturgeon are very wary and don't hold the bait for long. Once on the line that passive bite turns into a rage of fury, power, and endurance, a true one on one battle.
White Bass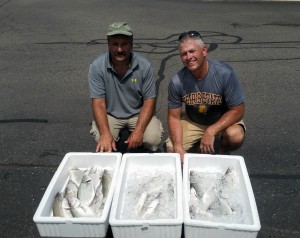 Great fun for the whole family! Whitebass are the perfect way to get your kids excited about fishing. In the heat of the summer these silver fish group up in enormous schools. The water can literally boil when these fish begin to feed. It is not uncommon to catch fish every cast, sometimes for hours! Even if you don't hook up you are sure to feel several tugging at your lure and chasing it right to the boat. These fish are very aggressive and strong for their size, offering non stop rod bending action on light tackle. They love to absolutely thump your quickly moving bait! They also offer unmatched action on a fly rod, perfect for an entry level or seasoned fly fishermen. A fly fishermen's dream!