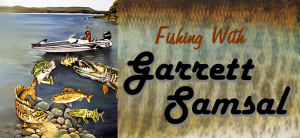 Professional Fishing Guide on Lake St Clair, St Clair River, & Detroit River
Phone: 231-668-2895 E-mail: garrettsamsal@gmail.com
Garrett Samsal St Clair Fishing 
Live to Fish, Fish to Live
Professional Fishing Charter Captain
We live to fish and provide the best guide service available!
Specializing in:Walleye, Smallmouth Bass, Musky, Sturgeon, & White Bass!
 
CHARTER FISHING GUIDE for MICHIGAN'S LAKE ST. CLAIR, ST CLAIR RIVER, and DETROIT RIVER
I'm guiding on the world famous angling mecca of Lake St Clair and its fertile connecting rivers, the Detroit River and St Clair River from ice out (end of March) jigging trophy walleye in the Detroit River till Dec 15th (or ice up) casting for monster musky.  If you are in search of that fish of a lifetime, there is no better place to do it than Lake St. Clair! I focus on delivering an unmatched angling experience. Join me on legendary Lake St Clair, this world renowned freshwater lake contains an abundance of trophy sized walleye, smallmouth, and musky. Making it a "bucket list" destination for anglers of all skill levels including a favorite stop for the national tournament circuits! Truly an angler's paradise!
I have been personally mentored by one of the best in the business, combine that with countless hours on the water and 28 years of my own angling experiences and you have the recipe for success! Go fishing with a knowledgeable professional angler and guide, who lives to fish, and fishes to live! Make your Lake St Clair experience the trip of a lifetime!
Our ability to read and cover water in two boats while staying connected keeps you on the hottest bites for trophy smallmouth bass, musky, and walleye on Michigan's Lake St. Clair, St Clair River and the Detroit River! Fall splits us up. Capt. Doug Samsal goes to fish the Manistee River for salmon and steelhead while I stay on Lake St. Clair fishing for thick feeding bass, walleye, and musky. All species fight better this time of year!  
When Your Trophy is On the Line I'm Your Guide!
CALL CAPT. GARRETT TO BOOK YOUR EXPERIENCE NOW! (231) 668-2895
Here's what's biting and season openers!
Giant Walleye - The famous Detroit River Spring Walleye run is in full force during April! Big walleyes early and numbers later. The St Clair River run produces great numbers from late April till mid-May.
Trophy Smallmouth - The smallmouth bass catch and release season is now open year round. St Clair offers the best smallmouth fishing in the world! My clients landed 187 in seven hours in 2015!
Monster Musky - The musky season starts the first Saturday in June. Your chances of landing musky on Lake St. Clair are better than anywhere! Musky season runs & produces thru December 15th
Strong Sturgeon - Your chance to hook into one of those powerful swimming fossils starts July 16th.
Schooling White Bass - Great numbers in the Detroit River by the end of April. Enormous schools in the St Clair River from June-August.
-All Bass and Musky trips are catch and release only, no exceptions! Game fish are too valuable to be caught only once!